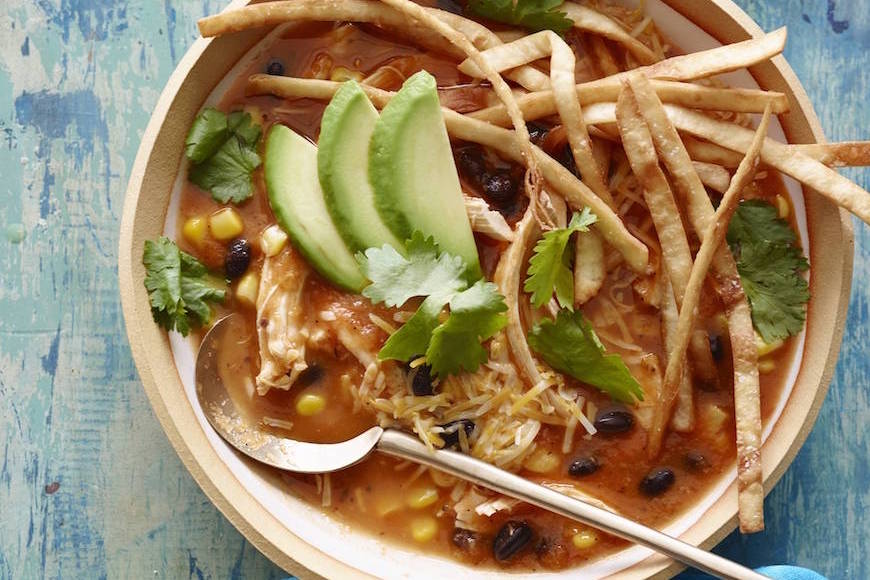 1 teaspoon Chipolte pepper
1 teaspoon ground cumin seed
1 teaspoon ground black pepper
1 sweet onion, finely diced
1 1/2 pounds boneless skinless chicken breast
3 cloves garlic, minced or grated
1 (28-ounce) can fired roasted crushed tomatoes
1 red pepper, chopped
4 cups chicken broth
2 limes, juiced (save the limes)
1 (14-ounce) can black beans, drained and rinsed
1/4 cup fresh cilantro, chopped, plus more for garnish
6 corn tortillas cut into strips
1 teaspoon olive oil
A few pinches of salt and pepper
1 lime, cut into wedges
1/2 cup Monterrey jack, shredded
1 avocado, chopped
1 teaspoon Frontier Sea Salt, plus more to taste
1. Spray a 5- to 6-quart slow cooker with cooking spray. Add the chicken, onions, garlic, fire roasted tomatoes, red pepper, chipotle chili powder, cumin, chicken broth, salt and pepper. Juice the limes into the slow cooker and then toss in the limes themselves.
2. Cover and cook on low heat setting 4-6 hours or until chicken is tender and shreds easily. Remove chicken from slow cooker to plate; shred using two forks. Remove spent limes. Return chicken to slow cooker. Stir in the black beans and cilantro. Cover and cook another 15 minutes or so.
3. Preheat the oven to 375 degrees F. Add the corn tortilla strips to a lightly greased baking sheet. Add the olive oil and a good pinch of salt and pepper. Toss well. Bake for 15-20 minutes, stirring every 10 minutes to ensure even cooking.
4. To serve, ladle the soup into bowls. Top with cheese, tortilla strips, a fresh lime wedge, diced avocado and chopped cilantro.