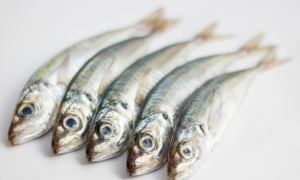 Ingredients
2 cans of wild sardines – low mercury
1/4 cup dried organic tomatoes
1/4 cup organic olive oil
2 Tbsp organic lemon juice
2 tsp chopped fresh organic oregano
1 tsp chopped organic fresh basil
1 tsp chopped organic fresh thyme
sea salt
organic pepper
Directions
Put your herbs, oil, and dried tomatoes in a bowl and allow it to soak until the tomatoes are softened.
Put sardines (including about half of the water they are canned in) and the tomato mixture in your food processor or blender and blend.
Taste for salt, pepper, lemon juice and liquid balance as needed.