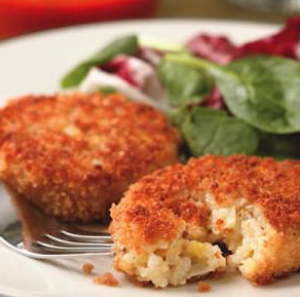 1 small organic leek, thinly sliced
2 1/2 cups fat free, organic chicken stock
1 cup Arborio rice
2 tbsp. fresh chopped organic chives
2 tbsp. freshly chopped organic parsley
3/4 cup reduced fat organic mozzarella cheese
Finely grated rind of 1 organic lemon
Sea salt and freshly ground black pepper
Organic Parsley, for garnish
Preheat the oven to 400 degrees.
Oil the bottom and sides of an 8″ springform pan.
Cook the leek in a large pan with 3 tbsp. of the chicken stock, stirring over medium heat, to soften. Add the rice and remaining broth.
Bring to a boil. Cover the pan and reduce the heat. Simmer gently, stirring occasionally, for about 25 minutes or until the liquid is absorbed
Stir in the lemon rind, chives, parsley, cheese and seasonings. Spoon into the springform pan and even the top. Cover with foil and bake for 30 – 35 minutes or until lightly browned. Turn out, slice into wedges and garnish with parsley and lemon wedges.